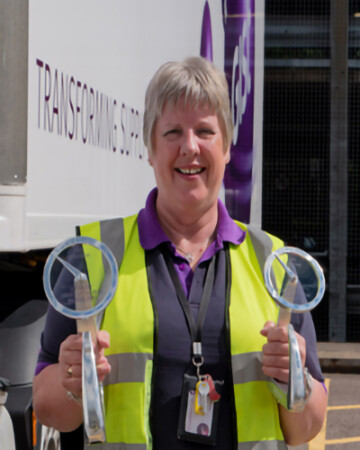 Biography
Gillian started her working life as a chef until deciding she wanted to drive trucks. So in 1985, a time when female HGV drivers were an anomaly, her mum took her life savings and paid for Gillian to sit her HGV and PSV licenses.
In the 1980s, it was very a difficult industry for a woman to build a career. No one would employ a driver without two years' experience and many companies were reluctant to take on female drivers. Their entire business was structured around male drivers. There were no female toilets on sites and women were seen as a liability, and more than likely to 'go off to get married and have babies'. But Gillian didn't give up, she gained her experience working for agencies doing general haulage for companies including Rockwood, Tibbett and Britten, Beck and Pollitzer and Heron. Gillian's next career move was joining Brinks, the world's largest cash management company, as a driver of armoured vehicles containing gold bullion, cash and precious jewels – where she had a few eventful experiences including getting robbed at gunpoint when carrying the cashbox into the Barclays Bank in mile end road.
Gillian now works for Gist in Hemel Hempstead,  where she's a strong member of the transport team, fitting in easily with her colleagues and is a dependable, reliable driver.
---
The Role of an LGV Driver – A Female Driver's Perspective